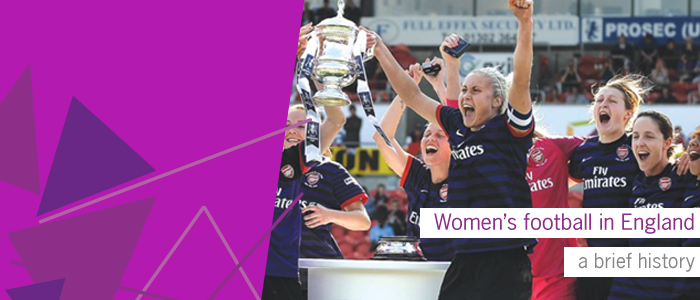 After the game's initial popularity at the end of the 19th century The Football Association came to the conclusion that football was 'unsuitable for women' and in 1921 banned it from being played on its clubs' grounds.
1969
Four decades on and in the 1966, the World Cup in England led to resurgence of interest in the women's game. Three years on and in 1969 the Women's Football Association (WFA) was formed to re-establish the game. It was an independent body and not part of The FA.
The WFA made real strides in the fledging international competitions and even took an England side to the European Championship Final in 1984. However, they were unable to develop the game at grassroots level due to limited funding.
The FA's direct involvement began in 1993. Since that time, the game has progressed and developed throughout the country and the England women's senior team has been able to participate on the highest stage. In 1993 there were only 80 girls' teams, no professional players, no football development and little funding.
The last 20 years...
Leagues and competitions have been formed throughout the country to form a thriving pyramid of women's football. It is now
the top female team participation sport in England
.
There remains considerable work to be undertaken, but the FA is committed to making women's football a credible and financially more sustainable sport in its own right. This means strong domestic competitions, a substantial grassroots game and a successful England team.